Drugs, Sex and Rock n Roll
Nobody wants what your selling! This is a reality for every industry in the world no matter what you are selling! I often joke and say if you are not working in one of the three primary industries (Drugs, Sex and Rock n Roll) then you are working in a support industry. This is closer to the truth that many might think. Whether you sell Ferraris or dialysis equipment, whiskey or washing machines your customers are only interested in the improvements your product or service can make in their lives.
If you work in a Business to Business industry your customers are only interested in what you sell if it helps them satisfy underlying needs with their customers. Basically, it all boils down to Maslow! In order to be successful you have to understand how your product or service contributes to individual people's lives at least at some level of Maslow.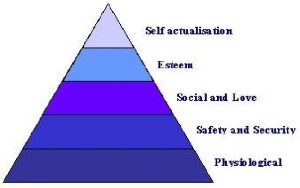 This is in no way news for good marketers but to judge from many companies advertising messages what really excites their customers is the number of number of gigabytes in the memory.
The classic "rule of thumb" was never mention the product feature without also stating the benefit for the customer. Therefore, you find laundry detergents with a special ingredient "X" (feature) that makes your socks whiter (benefit). Then you get new improved detergent with extra-powerful ingredient "X" to get your socks even whiter. The result of this type of marketing is that customers first become sceptical end up cynical! What customers really want is to be healthy and safe, loved and admired and terribly successful. No doubt a good laundry detergent can contribute to several of these "psychological" benefits and the better marketers understand the connection the more successful they become.
When an industry focuses on product features instead of the underlying "psychological" benefits commoditization and price erosion is just around the corner!