Digitalization – Leadership, employeeship, and the organization
Digitalization has become one of the hottest topics on everyone's lips, but it is also one of the most misunderstood. Enormous sums are invested in digitalization and the results of these investments vary greatly. Several studies indicate that many of these investments – at best – create no real value for their organizations and at worst result in significant damage.
Many approach digitalization as solely or primarily technological change, but the secret to success lies in understanding the behavioral changes connected to these technological developments. Gartner, the world's leading information technology research and advisory company, describes digitalization as "the use of digital technologies to change a business model and provide new revenue and value-producing opportunities; it is the process of moving to a digital business". Gartner might argue that this definition embraces even the necessary behavioral changes required to succeed, but it is clear that their focus is on the technology. Successful digitalization involves gaining the "real" practical benefits that technology makes possible by changing the behavior of stakeholders like customers, employees, suppliers and more. In most cases the actual improvements or benefits only arise when the behavior changes, not when the technology is implemented.
 Consumer banking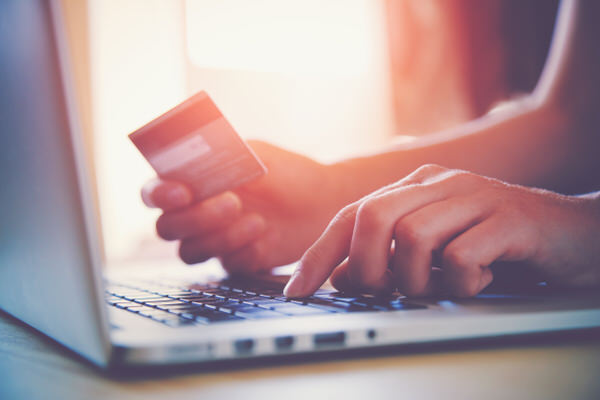 One case in point is the consumer banking industry in Sweden. The Swedish banks have been very successful with their investments in internet banking. The results of these initiatives have led to significantly lower costs for the banks and higher service levels for their customers. Most consumers in Sweden almost never have to go to a bank office and most of their day to day banking needs can be done via an app in their smartphones. But no matter how complicated and sophisticated the technology needed to drive these new services was, the most important question the banks faced, was whether or not consumers would accept this new way of working or if they would even have the necessary skills to manage the significant behavioral changes necessary in order to realize this new way of working.
Telecom
When I was the head of Telia Mobile in Sweden (Sweden's largest telecommunications operator), I was responsible for the very first initiatives to introduce "email in the cell phone" to our customers. I think it must have been sometime in 2001-2002 and at that time there was only one cell phone that could handle sending and receiving emails. It was a more or less, unknown phone, called "Qtek" from an even less well known, Chinese manufacturer, called HTC.
From a technical perspective, this plan would require a comprehensive cooperation from several companies in order to succeed with what turned out to be one of the very first launches of real "mobile email" in the world. In addition to Telia as the operator and HTC as the phone manufacturer, Microsoft was involved since we were using an early version of exchange server and WM Data took care of the system integration. Despite the high level of technical complexity in this project, we soon realized that our biggest challenge would be to get people to actually start using email in their phones. Most people we met told us that they couldn't see the point with email in their phones. We realized that we would have to facilitate a major behavioral change with our customers if we were going to succeed with this launch.
We decide to loan 1000 telephones to opinion builders like CEOs, journalists, celebrities, and other important customers. These ambassadors were asked to use the phones free of charge for 6 months. After the six-month trial period was over they could then purchase the telephones or return them with no questions asked. To make certain that these key customers got started using the phones as quickly as possible we created a special dedicated customer service. This customer service group worked solely with these 1000 ambassadors and helped them with setting up the phones and address any other questions they might have about the phone. Our idea was that if these 1000 opinion builders discovered how great it was having email in the phone, many others would follow. After the trial period was over almost no one returned the phone and the ones who did were the ones who never got started using the phone in the first place. Technology generally advances faster than our ability to adapt to the new technology. Often, technological development is limited by human behavior.
Rethinking your business
Digitalization forces us to "rethink" almost everything in our business. The following table gives an overview of the most common areas affected by digitalization.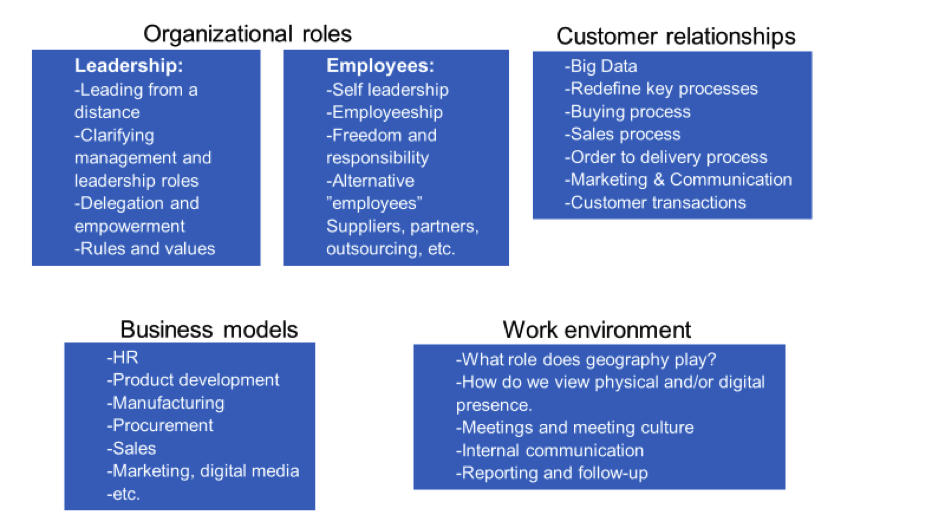 As you see, there isn't much left that isn't touched by digitalization and if there is anything I have failed to include in this table it is probably affected too.
Following are a few concrete tips to help you succeed with your digital transformation.
Prioritize and focus: Possibly one of the biggest mistakes many organizations make is trying to do too much at once. It is often impossible to understand all the relationships and interdependencies that are affected by digital transformation. Take one step at a time.
Focus on the human side of digitalization before you invest big money in technology.
How will your digital initiative affect people (customers, employees, partners, etc)?
Will this digital initiative require new behaviors from the people who are affected?
Do the affected people have the necessary competencies in order to meet the new behavioral requirements?
How will you make sure that the people get the training they need?
What incentive is there for these individuals to develop the necessary competencies and to adapt to the new way of working?
 Involve as many people as possible in the preparation and planning for your digital initiative. It is important to gather perspectives from all affected stakeholders. This will reduce the chances that you miss something important and increase engagement of those involved.
When you are ready with the first three points above, begin with a pilot.  Digital transformation is extremely complicated and even with the best preparation there is a great risk that you will miss something. Good pilots require more time and can be costly but they are worth it in the long run.